Straight side unitized frame.
2-point eccentric, counter rotating gear design
Battleship construction with aircraft quality
Capacities:
250 to 450 ton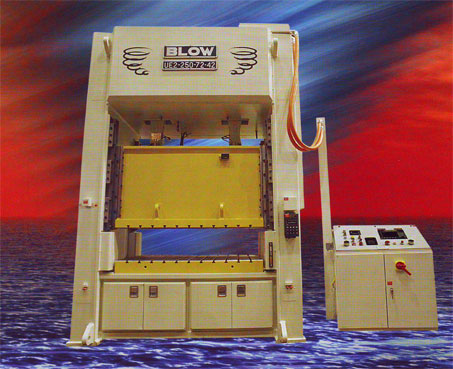 One Piece fabricated rigid steel frame - thermally stress relieved.
Counter rotating main eccentric gears with live F-B main pins.
Ortilinghaus pneumatic clutch/brake with large accumulator.
Quill mounted flywheel with auto lube.
Self contained hydraulic overload system using press lube oil.

T-slotted bolster and slide.
Machined feed pad at RH end of press.
Trabon circulating oil lubrication to all bearing surfaces.
Allen Bradley variable frequency AC drive.
Free standing operator console with overhead wireway to press.
Omnilink 5000 press and automation control with 8 programmable cams.
Model No.

UE2-250

UE2-350

UE2-450

Capacity

(US tons)

250

350

450

Rating Point

(in.)

0.250

0.250

0.250

Gear Reduction

Single

Single

Single

Bed & Slide Area. L-R x F-B

(in.)

72 x 42

84 x 48

102 x 54

Bolster Thickness

(in.)

6

7

8

Upright Opening, F-B

(in.)

25

31

37

Stroke

(in.)

8

10

10

Shutheight Over Bolster

(in.)

22

24

28

Slide Adjustment

(in.)

6

8

8

Speed SPM

40-80

30-70

20-60

Main Drive Motor

(HP)

40

50

60

Slide Adjust Motor (Reuland)

(HP)

3

5

7.5

Bed & Slide Deflection

(in./ft.)

0.001

0.001

0.001

Hydraulic Overload Stroke

(in.)

1

1

1

Upper Die Weight

(Lbs.)

5,500

8,000

12,000

Floor to Bolster

(in.)

38

44

48

Overall Height

(in.)

180

210

236

Floor Space, L-R x F-B

(in.)

116 x 58

136 x 68

162 x 80

Weight (approx)

(Lbs.)

55,000

88,000

132,000