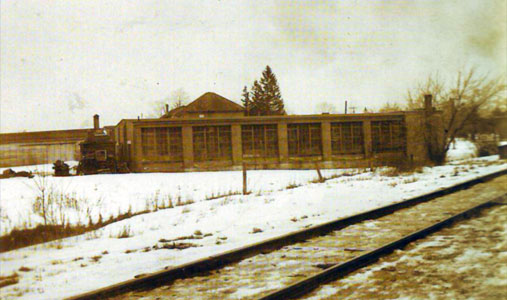 Frederick S. Blow


Founder

Kenneth S. Blow


Past President

Christine L. Blow


Chief Financial Officer
The history of the company began at a time when the foundation of industrialization was being laid in Canada. It was then that Frederick Sheldon Blow founded Acton Machine Shop in 1918. The shop in Acton, Ontario, Canada grew into what was for that time, a modern factory.
Frederick Sheldon Blow is seen as a pioneer of press manufacturing. Even today, going into the fourth generation, the company is still family owned and operated.
---
1918

Frederick Sheldon Blow engineered and built his inception of a bench press starting at seven ton capacity - better known at that time as trade name no. 0 Press.
1930
He expanded the line into Gap OBI by building his first ten ton floor standing press and later on, up to fifteen ton.
1942
His daughter Doris joined him to run the office.
1943
Saw his son Kenneth S. Blow enter the family business, starting with wartime production.
1945
The family business name was changed to Blow Press and with his aggressiveness, Kenneth S. Blow became President and Chairman of the Board. With his innovative technology, Kenneth built his first 150 ton Straight Side Press
1980
A new addition is built on to the fabricating shop, and an Annex added.
1982
Ken Blow's son, Andy entered the family business full-time.
1985
Blow Press moved its headquarters and administration to Guelph, the new site of its main manufacturing centre for mechanical presses.
1986
The first 1600 ton Eccentric Geared Press was engineered and built, starting a new era for Blow Press.
1987
Christine L. Blow joined the family team.
1988
The U.S. sales office opened.
1994
The company is still headed by Kenneth S. Blow, Chairman of the Board
1997
The dawn of a new era with the development of link drive for both our crank shaft and eccentric geared presses.
1998
We expanded our Machining Capabilities
1999
Saw the shipping of our first machines to Mexico and Australia for global sales.
2002
Ken Blow's Legacy
Ken's entrepreneurial spirit and committment to both innovation and excellence remains firmly entrenched within the organization. The business principles and values apparent throughout his decades of leadership are firmly ingrained in the company's core values as it continues to be guided by the next generation of Blow family guardianship. Blow Press will continue to be inspired by Ken's principles and guidance for years to come.